spaceweather.com
Front Page as of 02/05/10
EARTH-DIRECTED ERUPTION? NASA's STEREO-B spacecraft is tracking four active regions strung across the eastern hemisphere of the sun. Click on the image below to set the scene in motion--and keep an eye on number 4.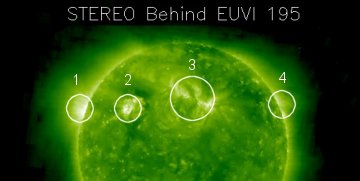 Credit: STEREO-B extreme ultraviolet telescope, 195 Angstroms (19.5 added synchronicity to the mix! Feel the numbers, beep ya!)
The movie shows an eruption of unstable magnetic loops. The blast occured around 0130 UT on February 5th and may have hurled some material in the general direction of Earth. (Our planet is off the right edge of the image.) The Solar and Heliospheric Observatory (SOHO) has a direct view of the blast site and it may be able to help evaluate this possibility.
UPDATE: There is a gap in SOHO image data spanning the time of the eruption. At present, there is no sign of a major CME heading toward Earth, but a lesser cloud could be en route. Polar sky watchers should be alert for auroras on or about Feb. 8th.
----
Seriously rocking. The explosions are all along 19.5 axis of the sun, and in terms of geometry it seems to reflect the upper vertex level of a merkaba/star tetrahedron which would correspond to six explosions in total. -Gregor