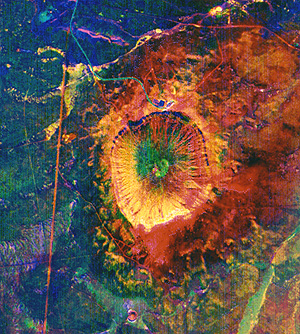 Police believe a
meteorite
has crashed near Alice Springs on Friday night.
Residents at the remote Wallare Rock Hole Community report hearing a loud bang and feeling the ground shake at around 7:00pm local time.
Alice Springs Police have ruled out an aviation accident, saying authorities have accounted for all aircraft.
Watch Commander Senior Sergeant Malcolm Passmore says officers went to the community to investigate but did not find anything.
He says police will now talk to the US Seismic Activity Centre to see if it can provide any clues as to the meteorite's location.
"Some other follow-ups were done with the tower here at the Alice Springs airport and some further enquires are going to made here today with the seismic monitoring station here in Alice Springs ," he said.
Mick Tickner from the Apatula Community Store describes seeing a spectacular light.
"[It] started off just a light trail as it passed across the sky and flared into a super brilliant gold and white light, and then looked like it was heading towards the Alice Springs area," he said.
Here is some
RAW Fo0tage