This is great!
Garth Turner was a Conservative MP who reacted against Prime Minister Stephen Harper's culture of obedience, quietude, secrecy, servitude. Turner crossed the floor, but lost the next election - as a Liberal. The Prime Minister didn't like Turner's, OMG!, blog! (Y'know, that crazy, free=spirited democracy talking to, representing constituents, arguing, ...)
Sheeple: Caucus Confidential in Stephen Harper's Ottawa
Author: Garth Turner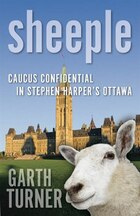 http://www.chapters.indigo.ca/books/...1797-item.html
On Garth Turner's website: "Dead man talking..."
http://www.garth.ca/weblog/